KloudSIPTM
Not ready to move away from your PBX hardware just yet?
We have a solution that will extend the life of your existing equipment and help you cut costs at the same time. Kloud9 IT, Inc's KloudSIPTM allows you to get rid of your expensive PRI connection and switch to a more cost-efficient SIP Trunking service.
KloudSIPTM is an enterprise-class solution that gives you the ability to connect any PBX and route calls over your internet connection instead of the expensive PSTN (Public Switched Telephone Network). Extending the life of your existing equipment helps minimize your upfront system capital costs and still save money by using a more effective technology.
What is SIP Trunking?
KloudSIPTM allows you to route voice calls over your internet connection. The goal is to minimize the amount of time a voice signal travels on the worldwide PSTN (Public Switched Telephone Network), since it operates like a toll-highway -- the longer you stay on, the more you have to pay. Installing the KloudSIPTM results in immediate cost savings since calls travel primarily on the Kloud9 IT, Inc network -- thus avoiding the high cost of the PSTN.
How Does it Work?
KloudSIPTM combines your data and voice traffic into one network connection. For a traditional PBX, the voice must pass through an Internet Access Device and convert the data so it can travel on the internet.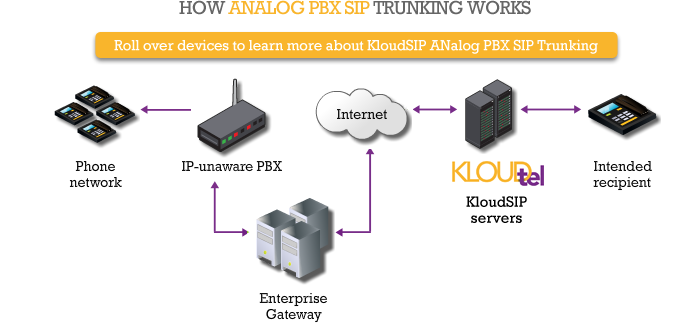 For an IP PBX, SIP Trunking is easier. KloudSIPTM can directly communicate with your IP PBX and does not require any additional equipment, allowing you to get setup in minutes and gives you the flexibility to make changes anytime you like.

KloudSIPTM works with any PBX. The method of delivering KloudSIPTM depends on the capabilities of your existing PBX. No matter which solution you need, rest assured both methods deliver excellent results.
If you are unsure which method you need give us a call and we will be happy to help you sort it out.